Welcome to the Costerustuin

This unique botanical garden is situated in Hilversum, a town in the heart of the Netherlands, between the cities of Amsterdam and Utrecht. The area is noted for its attractive and unique verdant landscapes. The region of Het Gooi, which includes Hilversum, is home to broad stretches of forest, fields of heather, peat bogs and lakes. Best known among these are the Naardermeer nature preserve and the lakes of Loosdrecht. Picturesque places such as the artistic community of Laren, the fishing village of Huizen and the fortified city of Naarden are in the direct vicinity.
Hilversum, known as the "City in the Green", is famous for its many buildings designed by urban architect Willem Marinus Dudok. Information about his architecture, including bicycle and walking tours, is available at the tourist bureau (VVV) and on the city of Hilversum's website (links below). A stroll through the Costerustuin is easily combined with a visit to nearby Pinetum, the gardens of Gooilust, the Bijenschans in Corversbos forest and the stately old residences of 's Graveland, including the Natuurmonumenten visitors' center.
Our address:
Botanische Tuin Dr. Costerus
Zonnelaan 4-Z
1217 NG Hilversum
The Netherlands
More information and visiting hours can be found through the website links at the bottom of this page.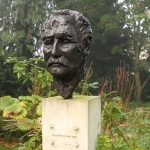 An overview of the Costerustuin
As early as 1920, biology scholar Jan Costerus recognized the importance of our native flora and founded Hilversum's first educational garden. In 1930 the garden was established at its current location at Zonnelaan 4-Z. The Costerustuin is a botanical garden in the sense that plants are arranged not by color or flowering season, but by family, on the basis of the Eichler plant taxonomy system. The nameplates speak for themselves, providing the family name and the plant name in Latin and in Dutch. The QR-codes that are found on poles throughout the garden give access to the essential plant collection on this website.
Nowadays The Costerustuin is one of Het Gooi's most accessible botanical gardens, covering some 1,200 square meters. Every day from sunrise to sunset visitors can enjoy this colourful oasis of indigenous plants, shrubbery and trees from all over Het Gooi and vicinity. Garden benches provide views of the garden pond and other vistas. Admission is free.
The Costerustuin Foundation
The goal of the Costerustuin Botanical Garden Foundation is the preservation of the garden and the stimulation of interest in its history. The foundation continues to carry out Jan Costerus's motto, that the garden be "for learning and for enjoyment". Its scenic and elegant lay-out invites one to enjoy the flowerbeds and to stop and take special notice of particular plants. Each season brings out the garden's charm in its own way – the fresh greens of spring, the summer's sea of flowers, the swaying seedpods of late autumn.


Further contents of this website
This website is intended to provide information about our unique garden. Hopefully, by clicking through it, you will share our enthusiasm for everything that is growing and flowering here.
– Contact: For more information you can reach us at: [email protected]
– Would you like to support our activities? Contributions are welcome. Send an e-mail to our treasurer, Piet Vulto, at [email protected]
Useful links
Pinetum Blijdenstein: botanical garden with one of the world's most complete
collections of Gymnosperms
Bijenschans Corversbos: beekeeping spot, over a hundred years old
Natuurmonumenten in Het Gooi and the rest of the province of Noord-Holland
Visitors' centre of Natuurmonumenten near Hilversum